The markets have been so hectic the last few sessions, as stocks posted their largest rally since the financial crisis on Friday — but will this just be a dead cat bounce? Or was that price action the start of a massive rally?
Who knows.
What I do is that it's a trader's market, and there are many opportunities for short-term traders out there… if you look in the right places.
How do I know this?
Well, I've been stalking the smart money traders…
It was the fastest-ever drop from an all-time high and the speed of this meltdown has got many traders and investors running for the doors. Not Wall Street's largest players though. They're still able to spot hidden gems in the market — today I want to walk you through two seemingly "well-timed" trades that could've led to massive profits.
With the market in a frenzy, I have to be highly selective with my setups. So what do I do? I turn to the options market. Basically, I want to find long-shot bets that signal to me a stock could move big.
For example, the previous Friday, I noticed 766 NVTA April 17th $15 Puts swept for $0.45 a piece — that was a $34,470 bet. They were purchased when NVTA was trading above $18 per share!
That meant this put buyer was expecting NVTA to drop below $15 on or before the expiration date. So I decided to put that on my watchlist.
In this market environment, I find it's extremely helpful to have a watchlist of just a handful of setups. That way, when it's time to pounce, I don't panic… I just remain calm, cool, and collected.
On March 10 at 10:34 AM, I actually pulled up NVTA, and noticed that the stock was relatively weak against the broader market.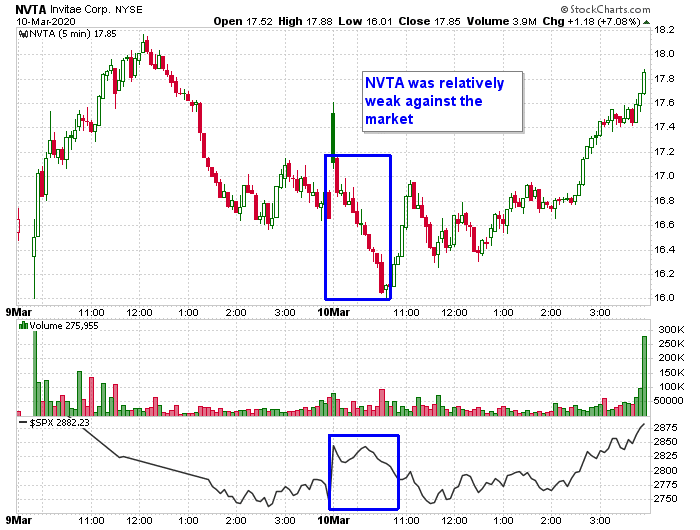 If you look at the chart, NVTA actually started to sell off at one point when the market was actually green. So I figured if NVTA broke the previous day's low and the market turns, the stock could plummet to $15 quickly.
So I bought 50 NVTA March 20 $15 Puts at an average price of $0.61. That trade cost me about $3,050 to put on.
Well, guess what happened just 2 days after I entered the trade?
The market was set to gap down significantly! This was great because the only thing that I held in my "portfolio" was one put and cash.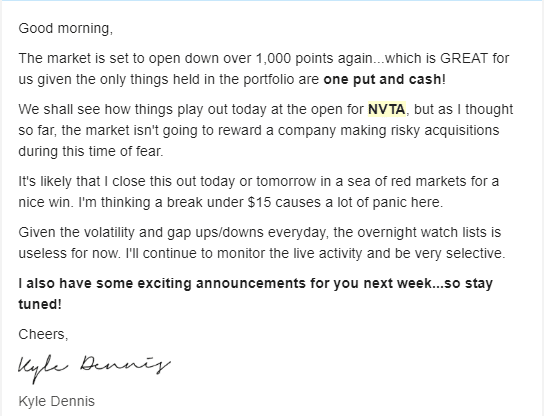 Here's what NVTA looked like that day…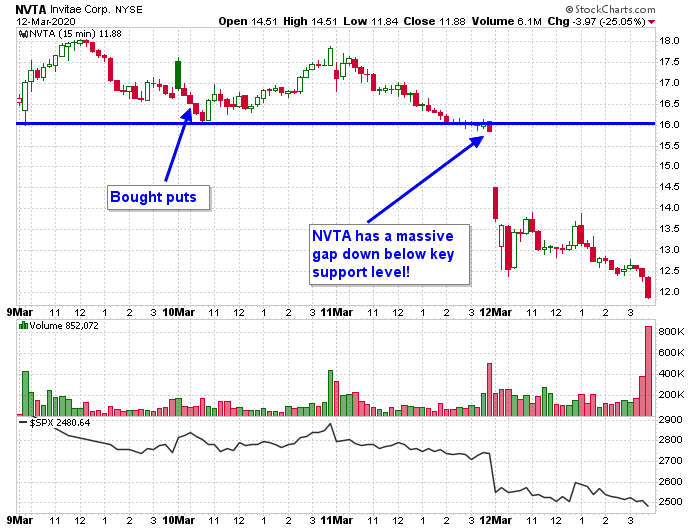 Of course, shortly after the market open, I decided to take my profits off the table, as those NVTA puts were going for $2.00! That $3,050 bet turned into $10,000, or approximately $6,950 in real-money profits! 
In just 2 days, I was able to lock down a 233% winner. 
In this market environment, I find following the smart money pays off. If you think that was just a one-off trade… think again.
Did Someone Know ABout LRN?
You probably heard about all the school closings due to the coronavirus… well, there are actually some companies out there that benefit from that, one of them being: K12 Inc. (LRN). 
The tech company that provides an online educational platform for students K through 12th grade — should see a boost in business given that most physical schools are closed because of the fear of coronavirus spreading.
So while the overall market was getting decimated on Thursday, tiny little LRN was bucking the trend. The stock skyrocketed, closing the day up 20.8% and at $20.73. 
Heck, LRN actually formed a bull flag pattern on the 15-minute chart, while the S&P 500 Index was getting smoked…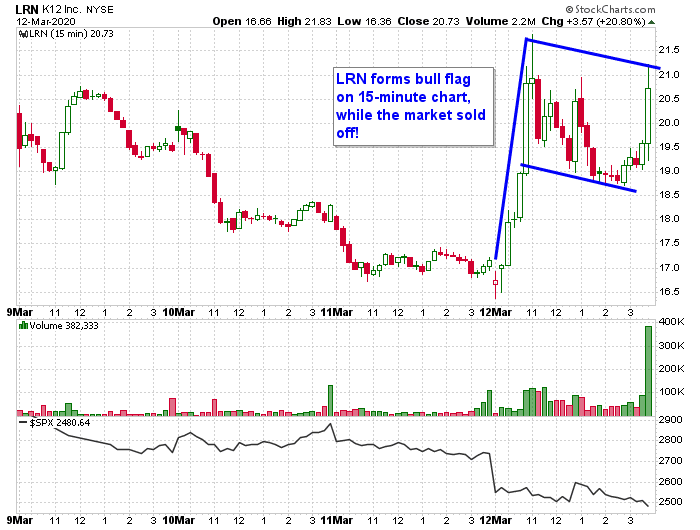 Why was I watching this stock so closely?
If you remember my trade in NVTA, I study money flow. 
And there was an unusual amount of options traded in LRN on Thursday. 
In fact, it was a 700% jump in volume from what it usually sees on average. That very day, more than 3,500 calls traded. I don't know about you… but that sounds pretty interesting to me.
Heck, I saw one trader come in and buy 300 March 20 $26 calls for $0.15, set to expire in a week with the stock trading slightly below 21. 
What was the rush?
Maybe someone knew something. 
The very next day, LRN gapped up and traded as high as $24.16. Not quite the move that options player expected… but there is still time for LRN to get to $26.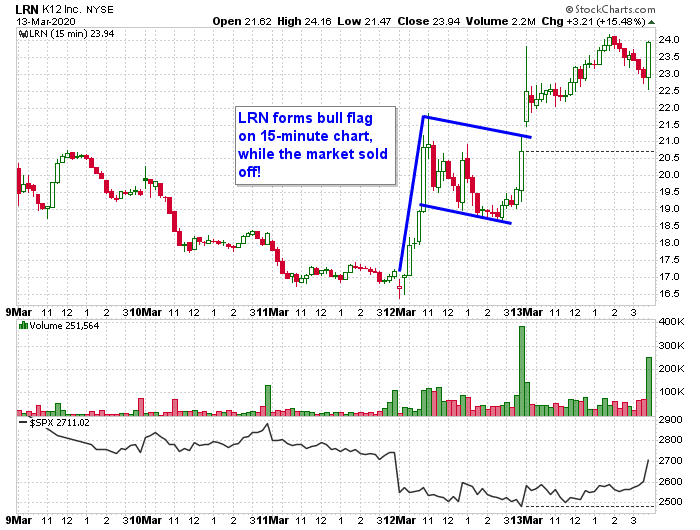 At one point, those call options were worth well over $2 a pop. In other words, that could've been good for a 10-bagger.
The thing is, I've been able to uncover these potential opportunities in such a crazy market environment… and I believe there are more plays for me to take advantage of. If you want to learn more about my trading strategy, click here to receive my complimentary eBook Dollar Option Trader.