Since Tesla Inc (TSLA) has eclipsed Toyota as the most valuable car company in the world…
Some traders have found the $1,300+ price tag for one share of TSLA to be too expensive…
And the options are no different.
Instead, some players have been piling into other electric automakers for the sympathy play.
We've seen stocks such as ElectraMeccanica (SOLO), Ayro Inc. (AYRO), and Arcimoto (FUV) catch a pop…
But there's one electric automaker that stuck out to me from the rest… Nio Inc. (NIO).
Why?
Well, last week, I noticed smart money players piled into this name.
And their $210K bet in NIO calls paid off… as they're more than 100% higher from where they purchased them.
Now, the thing is…
These players left some clues behind and I want to point them out to you today.
As you probably know, NIO is a favorite among Robinhood traders.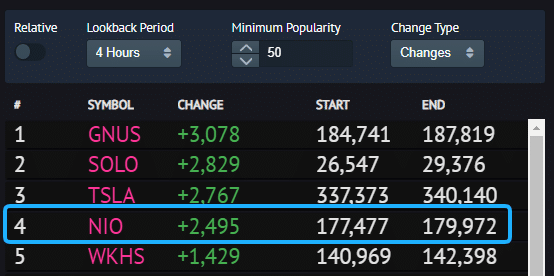 Source: RobinTrack
Heck, nearly 2500 accounts added NIO in the last four hours of trading on Thursday.
Now, less than a year ago this stock was nearly left for dead, trading at $1.19 per share…
But today, this stock is at 2-year highs… and it looks like it's got some room to run.
That's more than 800% off its 52-week lows!

Source: Finviz
While some traders were wondering whether they should play the momentum… or sell the rip…
One options player came out on Thursday and threw down a wild bet:
They Came In And Bought 2999 Jul $11 Calls
They paid $0.699 per contract for a total of $210K in premium
Here's what stood out to me:
Out-of-the-money (OTM) options were bought,  and the trader needs a 28.7% move just to break-even

The options expire in less than two weeks

The trader paid up for the options. An aggressive order to ensure they get filled.
Those are all "tells" which signaled the stock could run higher…
Guess what?
Those options went for $1.80 at 1:17 PM ET…
If that trader stayed long those calls, they would've been sitting in more than 150% in gains…
And that $210K bet would be worth…
$539,820… Or More Than $320K In Gains
Now, this wasn't the only smart money play I noticed…
There were plenty that came across the scanner last week.
I believe once traders learn how the smart money moves…
They can start to follow the paper trail and put the pieces of the puzzle together, and potentially spot trades like NIO…
Who knows.
Of course, if this is all unfamiliar to you… don't worry.
I've put together an exclusive training session that details how I take advantage of "insider" activity.