Stocks were choppy today after hopes of a stimulus quelled until after the election. 
To be honest with you, that news is old and it's something most elite traders have already priced in.
This market environment has some traders jumpy, and we're seeing a knee-jerk reaction each time a major market headline hits the wire…
That makes trading a lot more difficult.
That's why I'm leaning on my Dollar Ace Strategy — I like to call it my copycat strategy.
You see, I have a customized scanner that allows me to see what the big money players are doing in the options market.
I take their best ideas and make them my own…
 I want to show you how it works, and how I utilized it to uncover two monster winners this week.*
*Results presented are not typical and may vary from person to person. Please see our disclaimer here: ragingbull.com/disclaimer
The way for you to see the power behind my copycat strategy is through real money case studies.
So let's get right into with some activity in Fireye (FEYE) that I spotted this week. On Tuesday at 11:06:32 AM, a trader came in and blasted this order:
1062 FEYE Oct. 23rd $14 Calls 
They Paid $0.21 Per Contract
For A Total Of $22K In Premium 
Then at 11:06:50 AM they bought more…
This time, 1344 contracts, paying $0.32 for a total of $43K in premium…
But apparently, they had more behind it. 
Because at 11:08:50 AM they bought 4304 contracts for $0.40 cents, costing a total of $172K in premium. 
Believe it or not, I was watching this unfold live, and in real-time. 
Obviously, when I see that type of aggressiveness in a trader…something tells me that they might know something. 
After all, why would they be throwing so much money on what appears to be a 44% chance of working?
Luckily, I didn't have to worry about it too much. 
You see, I got in the second the order hit my scanner.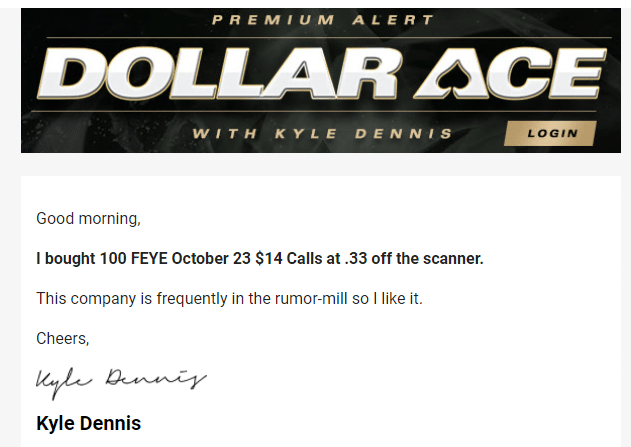 Less than an hour later, I was locking in my gains.*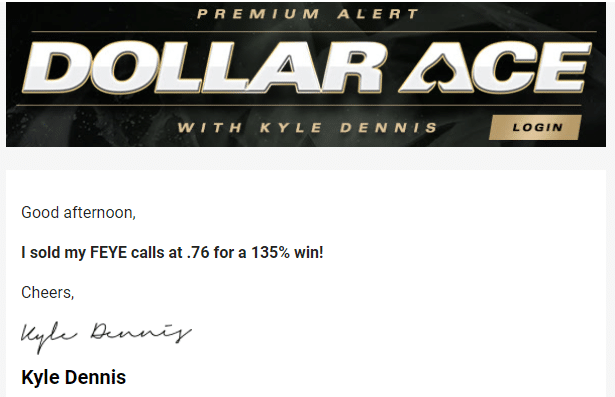 Triple-digit returns are awesome. 
But the fact I didn't have to do much, watch the scanner, copy and paste the trade. 
Next up, there was another "smart money" trade idea that I took and made my own. It was in Cloudera (CLDR).
One trader came in moments after the opening bell on Monday and started to buy
1106 CLDR Oct 23rd $12 Calls
For An Average Price Of $0.398 Per Contract
It Cost Them 44K To Slap It On.
So what does this trade tell me?
First off, they need the stock to move fast. 
You see, it closed at $11.87 on Monday, so the $12 calls are out-the-money…and they expire in the next nine trading days. 
More than 50K contracts traded on that strike alone.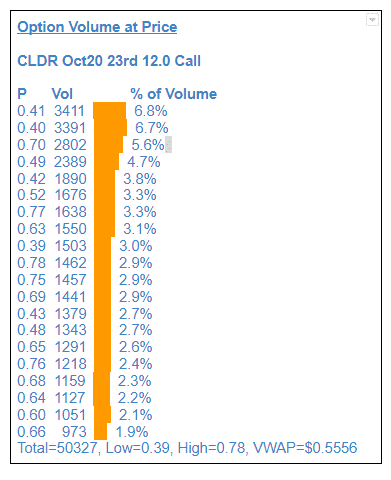 Do you want to hear something crazy?
Near the end of the day, some traders were paying as high as $0.78 per contract. 
That means these options have already doubled in value from the initial onslaught of buying…
…yet traders still kept coming in and gobbling up more calls. 
As for me, I took my profits at 150%.*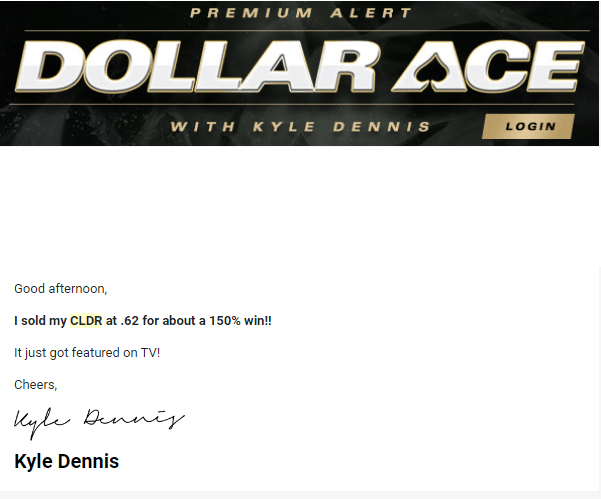 Listen, I'm not telling you about these strategies to brag. I want to show you how easy it is for me to uncover these ideas and follow the "smart money".
Now, if you're ready to learn how I take this type of information…
…and build trades around it…
Then register here for this exclusive training event. 
I've made over $4M in my trading profits this year…*
But nothing delivers faster and larger gains than this strategy…
It's like having a hedge fund working for me…
Find out how Dollar Ace can make you a better trader.
*Results presented are not typical and may vary from person to person. Please see our disclaimer here: ragingbull.com/disclaimer