While most traders are worried about all of this uncertainty in this market and scrambling to figure out what direction the market is headed next…
When the market is this choppy, I love to utilize my "insider" activity scanner to effortlessly generate trade ideas.
You see, that customized scanner lets me know where the big money players are shoving their chips.
Today, I want to show you one of the reasons why I developed Dollar Ace and how it can help to level the playing field.
It's actually about a former Rite Aid (RAD) executive who was caught red-handed, and this case actually highlights how much shady activity there is going on in the market.
Steven J. Sheinfeld worked at Rite Aid headquarters for decades… until he had fat stacks of illegal cash to help him retire.
Steven held the prestigious position of VP of Internal Assurance Services.
A spot that had him sitting right in the company's Internal Audit & Compliance department and only reported to the COO.
In October 2015 Rite Aid and Walgreens announced their merger agreement. Walgreens would be scooping up Rite Aid shares for $9 per share, which was 48% MORE than what Rite Aid had closed the day before.
The timeline expected the merger to be complete in the second half of 2016.
But the FTC still needed to sign off on the merger, and by October 2016, the FTC still had not given its check of approval.
A fate that had Rite Aid and Walgreens mutually announcing the extension of the merger.
During this time, another juicy deal got put on the table.
The two pharmacy chains would be selling 865 Rite Aid stores to another chain to sate the FTC concerns.
But by the first of 2017, the FTC had yet to sign off and Steven, after 23 years of seemingly fine performance, changed.
During these years of limbo, Steven came into the know in the kindest of ways.
Of Course, You're Not Supposed To Use This Information
In 2016, Steven started to help Rite Aid and Walgreens Integration Management Office (IMO). He was the go-to employee policies and compliance guy. ─ which would make it all too ironic when he finally got nailed for insider trading.
Rite Aid's merger info was handled with the highest of secrecy. Everyone working in IMO knew full, and well, not a damn thing should be shared with anyone… Not even a priest.
If any other Rite Aid employees were enlisted to help, they got the same set of rigorous rules, including Steven.
But these rules would not change Steven's scumbag destiny.
Steven was tasked with developing "Day One" changes for the newly merged companies.
Soon he was complaining about his project and the merger end date. With these complaints came a good amount of work as he drove to have the project finished in time for the January 27th merger date.
This high work ethic would be how he learned some highly confidential info in the most innocent way. January 17, 2017, a Rite Aid executive emailed him. Explaining not to stress because chances were the merger would not happen on the predicted date.
….. In all seriousness, this executive went out of his way to help out Steven. Even emailing Walgreens to have them call off their dogs.
It would be his kindness that would derail Steven.
How The Scheme Played Out
See, Steven had a good chunk of Rite Aid stock. Over 124K employee stock options.
One day after receiving the kind email from his executive pal Steven was selling his options and selling all but 1,400 shares for $8.60.
The broker told Steven that this sell made up about 50% of Rite Aid's trading volume that day… a move that would push the price per share lower.
Two days after the email, Steven used two family member's brokerage accounts and sold all of their Rite Aid stock.
January 20, 2017, Bloomberg posted an explosive article. The two pharmacy chains confirmed when they announced the merger would not be completed by January 27th. As a result, share prices dropped.
But this was not only a piece of the bad news.
At the end of the month, the companies announced Walgreens would not be paying $9 per share. Instead of paying a much lower price.
Eventually, the whole deal fell through.
Steven avoided this loss by selling at a prime position thanks to the scandalous tidbit he learned from work. He avoided about $155K in losses, according to the agency.
Supposedly six months later he retired, with almost a million reasons to do so.
Hopefully, he has not gotten too comfy with his new Florida life because the SEC has charges against him.
Listen, there's just so much shady activity in the market… and this goes to show you the markets don't operate on a level playing field.
However, my Dollar Ace Strategy allows me to legally steal some of the big money's best trade ideas. To me, that's as good as it gets to compete with these players on the street.
Heck, on Thursday morning…
I was locking down my gains on Game Stop (GME).*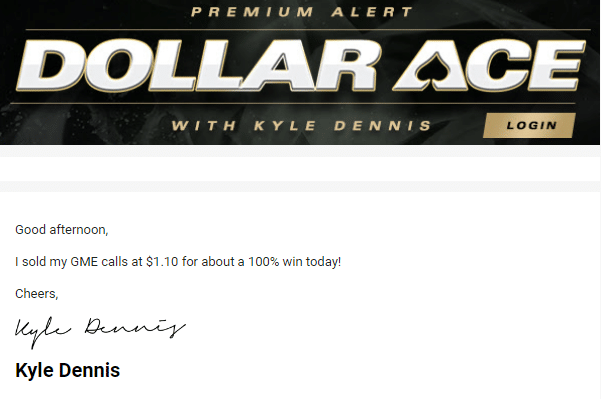 If you genuinely want to be a master at trading, you must have a clear edge in the market.
Find out how Dollar Ace can provide you with a trading advantage and help you become a better trader.