As volatility starts to pick up again…
Some traders will get more cautious because it can be difficult to uncover trade ideas.
For me personally, I don't really sweat the market volatility.
Why?
Well, the "smart money" is throwing down large bets on specific names…
And leaving clues behind.
With the help of my Dollar Ace scanner, I'm able to figure out their moves and uncover some of their best ideas.
On Tuesday, when there was news of coronavirus cases ticking up…
Some traders were getting on the defensive and positioning themselves for a potential pullback.
Not this "smart money" trader though…
One options player came in and place a bullish bet on Harley-Davidson Inc (HOG).
Today, I want to reveal to you the activity I saw… and my thoughts on the trade.
My Dollar Ace scanner detected some pretty unusual options activity in HOG.
Despite the uptick in coronavirus cases on Tuesday…
Someone was willing to place a bullish bet in HOG.
More specifically, that options player…
Bought 792 HOG Jul 2nd $26.50 Calls For $0.731 
When The Stock Was Trading At Just $24.91
They Spent A Whopping $58K On The Position
Why was this trade so interesting?
Well, there wasn't a whole lot of activity prior to that day… in fact, the options they purchased had an open interest of just 17.
I mean who would want to buy a stock that relies on consumers purchasing motorcycles, when states could start to close… again.
That signals to me someone may know something about HOG.
Why?
Well, those options expire on July 2, as the market is closed on July 3.
That means the trader needs to get above $27.23 to just break even.
If I know anything about the "smart money"…
It's that they don't play for break-even gains… they typically find large moves in stocks before they happen.
With the stock trading around $24 right now… this options player may be looking for a large move in HOG.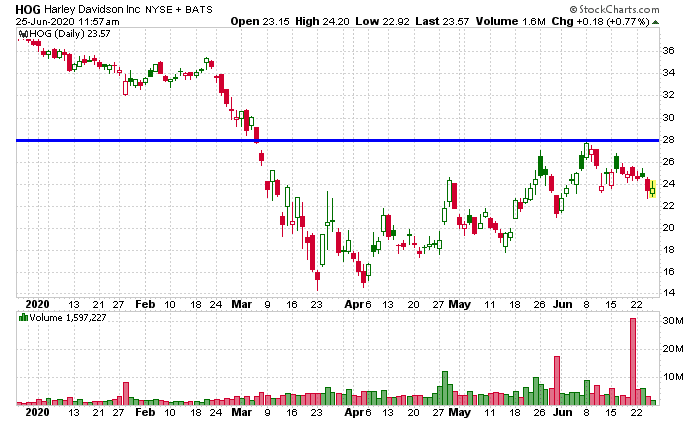 Source: StockCharts.com
With recent highs right around $28…
This options trader may be looking for a breakout very soon.
Do they know something we don't?
Who really knows…
All I know is that their activity says they're expecting a pop in HOG.
Now, this is just one of the few trades I noticed on the Dollar Ace scanner the last few sessions.
If you want to learn more about how I detect the "smart money's" moves and where they are placing some of their bets…
You'll want to watch my unusual options activity masterclass.
In it, you'll learn one of my favorite trading strategies and how I legally "steal" some of Wall Street's largest players' best ideas.