If you haven't seen the statistics yet…
Coronavirus cases have started to pick up…
Texas just hit an all-time high with COVID-19 cases…
And states may revert the re-opening plans…
Unless one of the many companies racing for a cure or treatment hits a breakthrough.
One of the leaders in the pack right now is Inovio Pharmaceuticals (INO).
Options players were all over this stock yesterday… and the options they purchased…
Were trading more than 700% higher this morning.
Did they know ahead of time… or was this just a well-timed trade?
You'll have to be the judge of that.
What I really wanted to show you today was how traders could've actually followed…
The "smart money" action in INO.
How?
Yesterday morning, Inovio Pharmaceuticals had a positive catalyst…
As the company received $71M from the U.S. Department of Defense.
With that capital infusion…
The company could ramp up production of its smart devices, which are said to administer its experimental coronavirus vaccine.
Not only that INO caught an upgrade from Maxim yesterday, as they raised its target from $18 to $24. 
Take a look at what happened over the last two sessions.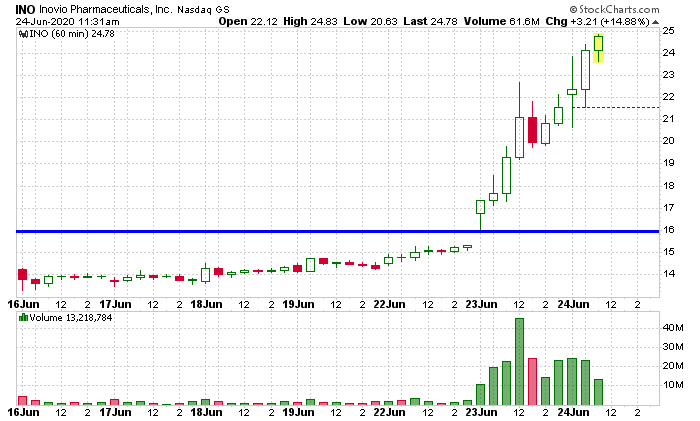 Chart Courtesy Of StockCharts.com
The thing is…
The "smart money" started to jump into the options yesterday morning…
Just 13 minutes after the market opened…
A trader came in and bought
540 INO Jun26 $16.0 Calls 
Paying $1.10 Per Contract 
A Total of $59K In Premium
Those options were set to expire in a matter of days.
As you can see from the chart above…
The stock exploded…
And in just a matter of hours…
Those calls were worth about $5…
In other words, the $59K bet…
Turned into a profit of $210K.
If they held those options…
That position would've been worth more than $400K at one point today.
I know what you're thinking…
Can you spot these trades in real time and what do you look for?
One of the factors I look at is the activity in the options.
For example, on average there are 31k call contracts of INO traded per day…
However, more than 220K contracts trade on Tuesday…
A dead giveaway the Maxim report had weight and the catalyst could propel the stock higher…
And boy was that options player right on the button.
If you really want to learn how the "smart money" players move in this game…
You'll want to check out my unusual options activity masterclass.
In it, I detail one of my favorite trading strategies and how I track "insider" activity.
WE MAY HOLD SECURITIES DISCUSSED. RagingBull has not been paid directly or indirectly by the issuer of any security mentioned in the Services. However, Ragingbull.com, LLC, its owners, and its employees may purchase, sell, or hold long or short positions in securities of the companies mentioned in this communication.
DISCLAIMER: To more fully understand any Ragingbull.com, LLC ("RagingBull") subscription, website, application or other service ("Services"), please review our full disclaimer located at https://ragingbull.com/disclaimer.