There are so many money-making opportunities out there, and that can actually lead to one factor that cripples traders…
Decision Fatigue
Trading can be overwhelming especially when you're trying to uncover the most explosive opportunities out there.
The last thing you want to happen is to have decision fatigue because the quality of your trades will deteriorate.
What's the solution?
Dollar Ace, or what I like to call the "smart money" strategy.
You see, I utilize a customized scanner that a team of quants helped me work on and it looks for unusual options activity — trades that the big money is piling into.
I want to show you how it works with some case studies of plays that I took this week, right from the scanner…
And one massive options play that came across my radar on Thursday.
Every day, there are massive options plays that my Dollar Ace Scanner detects.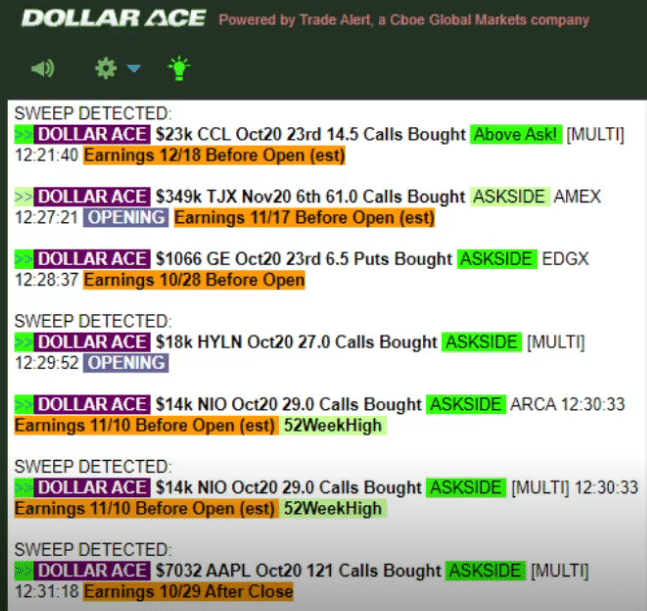 If you think about it, some of these plays are in out-of-the-money (OTM) options with little time to expiration, and there is big money being thrown into them.
I don't know about you, but I believe the "smart money" plays for keeps… not to gamble.
So one trade that came up on my scanner this week was Fireye (FEYE).
So let's get right into with some activity in Fireye (FEYE) that I spotted this week. On Tuesday at 11:06:32 AM, a trader came in and blasted this order:
1062 FEYE Oct. 23rd $14 Calls
They Paid $0.21 Per Contract
For A Total Of $22K In Premium
Then at 11:06:50 AM they bought more…
This time, 1344 contracts, paying $0.32 for a total of $43K in premium…
But apparently, they had more behind it.
Because at 11:08:50 AM they bought 4304 contracts for $0.40 cents, costing a total of $172K in premium.
Believe it or not, I was watching this unfold live, and in real-time.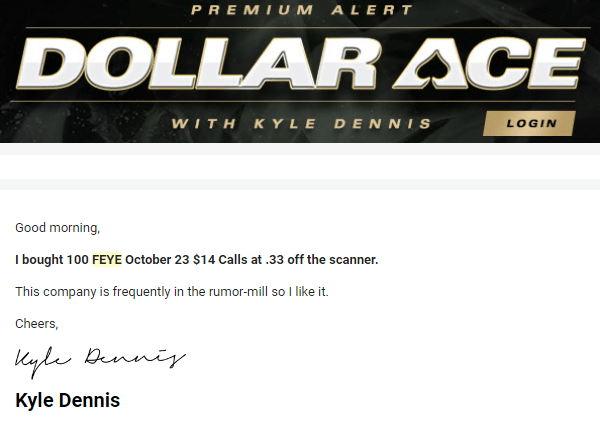 In just about an hour, those options exploded, and I locked in a 135% gain.*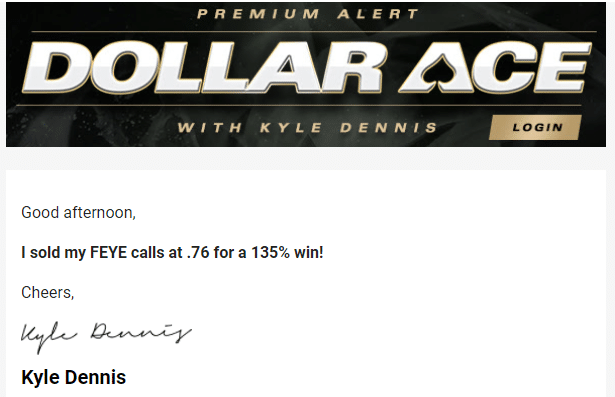 A similar trade popped up on Cloudera (CLDR) too!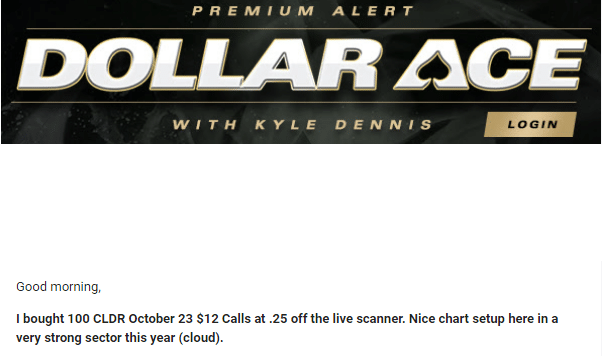 This time, it took a little over two hours… but I locked in a 150% winner.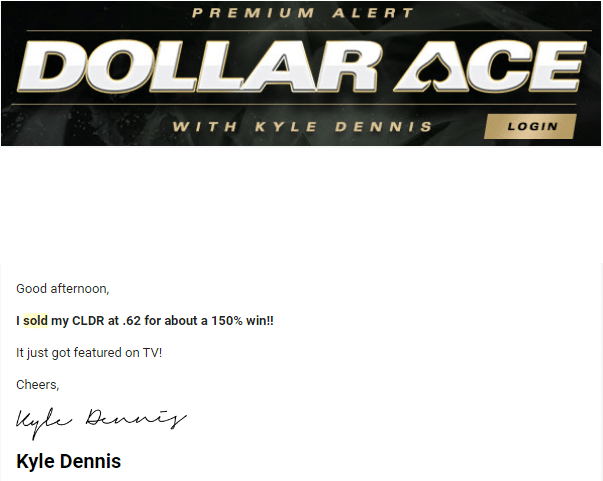 Now, there's another trade that I saw a few months ago, and it was a massive options bet.
On July 31st, Pinterest (PINS) shocked Wall Street after posting Q2 results which saw global monthly active users soar by 39% year over year to an astonishing 416 million.
Not only did revenues grow, but shares of the stock also exploded, gaining more than 36% and closing at $34.29.
Since then, its stock price has been stampeding higher…
…yesterday it closed at $43.92.
Every time I think of the stock, I think about the option whale trade I saw back in late August.
You see, there was a massive options block trade…
Someone Bet $7.7 Million On
One Single Options Trade
They bought…
10,000 PINS DEC $32 Calls
They Paid $7.70 Per Contract
For A Total Premium of $7.7M  
In order for this trade to break-even, the price of the stock would need to reach $39.70 at expiration.
In other words, this trader was betting that PINS would go on to break new all-time highs.
And it did.
Those 10K call options… are worth $12.70 per contract.
In other words, this trader is potentially sitting on $5M in profits!
If you look at the open interest, there are 20K contracts. Maybe they haven't sold out yet, or looking for an even bigger move?
Who knows.
Listen, these are the type of trades that my Dollar Ace Strategy has produced.* Every trading day, there are plenty that catch my eye, and it helps to prevent decision fatigue.
Instead of hunting down trade ideas, I let them come to me.
If you want to learn how this strategy works and why I believe it can provide you with an edge like no other…
I want you to attend this special training session. You'll discover how I legally steal the "smart money's" best trade ideas and make them my own.
*Results presented are not typical and may vary from person to person. Please see our Testimonials Disclaimer here: https://ragingbull.com/disclaimer