I've received an overwhelming response from readers…
And my team told me, "Give the people what they want… after all, you are known as The People's Trader around here."
So back by popular demand… American Greed.
Today, I've got a story that I believe will not only help traders right now…
But it's one that hits close to home.
You see, just a few years ago I was a newbie trader scouring the internet for answers… and I realized not everyone out there is actually trying to help.
It's sad but true.
In this issue of American Greed, I intend to expose one trader who allegedly provided misleading statements in an online investment forum — regarding a COVID-19 stock listed on the OTC Markets.
First things first… 
If someone tells you about a stock, it's important for you to come up with a due diligence process and conduct your own research.
There are dirty players out there who are trying to take your cash and run.
No joke.
About 10 days ago, the Securities and Exchange Commission (SEC) charged a penny stock trader in California…
For making misleading statements in an online investment forum surrounding a biotechnology company.
Now, biotech stocks are my bread-and-butter… and the more I read into this, the more it irked me.
This trader was making false statements and even went as far as to say the company developed an "approved" coronavirus blood test.
With the surge in retail traders, it's very easy to "manipulate" these traders because they might not know the process when it comes to FDA approvals.
Heck, when I tried to dig up information on this company Arrayit Corp (ARYC), which trades on the OTC Markets…
I couldn't find anything on the company really… 
Except for a news release that the DOJ charged the president of Arrayit with one count of securities fraud and one count of conspiracy to commit health care fraud on June 9, 2020.
That coincides with the SEC charging this trader for his elaborate scheme.
How This Trader Made 6 Figures Off Arrayit
Jason C. Nielsen is the trader who blatantly lied to aspiring traders and investors on trading forums.
The SEC alleges that beginning on March 2, Nielsen used online posts encouraging investors and traders to buy up shares…
And went as far to include messages making false claims about an "approved" COVID-19 test.
Guess what?
He didn't disclose he had a position in Arrayit.
That's a big no-no in this game.
He probably didn't tell them his plans to sell his shares when people were buying.
According to the SEC's complaint, this trader made more than $100K in 6 weeks.
Now, this case is still ongoing… but this trader was caught red-handed.
That goes to show you, in my opinion, it's important to conduct due diligence and not just take someone's word for it.
"Smart Money" Players Are At The Top Of The American Greed Chain
The thing is, there's a lot more bad apples out there and this is just the tip of the iceberg…
And I believe there's actually more greedy people out there…
Except these are the "smart money" players or "wise guys" who actually conduct their due diligence and can sometimes know things you and I don't.
I mean take this "smart money" trade for example…
Just yesterday, there was some heavy-call action in Cloudera (CLDR), a Carl Icahn play, and recent rumored acquisition stock…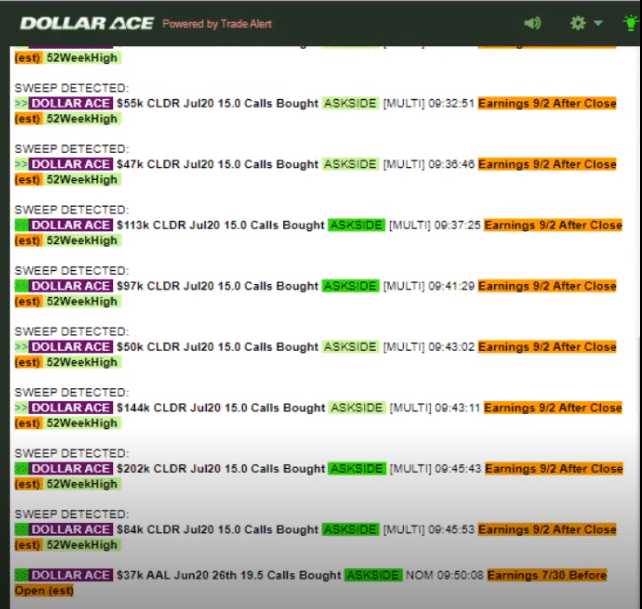 At 9:30 AM yesterday…
Yes right at the opening bell…
An options player came in and bought 1113 July $15 Calls for $0.50 per contract…
In total, they dropped a little over $55K…
15 minutes later… those same call options were trading for $1 per contract…
And this morning… shares were trading above $14.
Of course, there's a lot of news surrounding CLDR…
Who knows what will happen with this stock, but traders could've used that information to generate gains.
Now, if you want to learn more about the "smart money" and how you can figure out where they may be placing their money…
Then you'll want to check out my eBook, Dollar Option Trader…
And find out how I use this information to my advantage.
WE MAY HOLD SECURITIES DISCUSSED. RagingBull has not been paid directly or indirectly by the issuer of any security mentioned in the Services. However, Ragingbull.com, LLC, its owners, and its employees may purchase, sell, or hold long or short positions in securities of the companies mentioned in this communication.
DISCLAIMER: To more fully understand any Ragingbull.com, LLC ("RagingBull") subscription, website, application or other service ("Services"), please review our full disclaimer located at https://ragingbull.com/disclaimer.