Healthcare services and providers got rocked this morning after Amazon (AMZN) announced it was jumping into the pharmacy business. 
Stocks such as Walgreens Boots Alliance (WBA), CVS Health Corp. (CVS), and Cardinal Health Inc. (CAH) are taking a beating.
Now, some might be put off from trading healthcare stocks because of this catalyst. But I want to let you in on a little "secret."
There are pockets of opportunity within the healthcare sector — and right now, any catalyst can cause them to pop off.
I mean just take a look at some of the top gainers in healthcare today.

The key is to identify a specific catalyst on the table ahead of time.
Let me show you what I'm talking about here and what trends I've uncovered.
Given the market environment and the election catalyst, I think healthcare stocks will take off. Not only that but with the whole pandemic — there will be multiple areas of opportunities. 
For example, we've got vaccine stocks, as well as companies that have to supply delivery methods for the vaccine. Not to mention, diagnostics companies (people need to be tested as the economy opens back up).
Of course, you're probably wondering, "Kyle, how do I actually uncover these opportunities?"
Well, the key is to understand how to trade catalysts.
If you don't know what a catalyst event is…
To me, it's simply a reason for a stock to move. This can be M&A (mergers and acquisitions) activity, earnings, a fundamental change in the company, being added to a major index, etc.
Whatever the case may be, I'm looking for a reason for a stock to pop.
With healthcare names, it's a bit easier for me to uncover catalyst trading opportunities.
You see, there are specific timelines when it comes to healthcare stocks.
For example, if a biotech company is working on a vaccine, there will be data releases on different dates. What I am to do is uncover a specific catalyst, then ride the wave of buyers who pour in and want to hold into the event.
However, for me personally, on longer-term plays, I want to take my position off the table once I lock in at least 30% in gains.
Listen, with the whole election catalyst, there is one healthcare stock I've got on my radar for a "longer-term" play. I'm looking to hold this for a few months to try to get as much meat off the bone as possible.
I believe this healthcare stock can run higher well into 2021, and if you want to learn more about this play that I'm about to hit the buy button on…
You're in luck. 
I opened up 250 spots to gain access to Sniper Report for a measly $49. It comes out to less than $1 per week.
Not only will you be able to watch me trade my 5 POTUS Picks LIVE…
You'll receive all of this.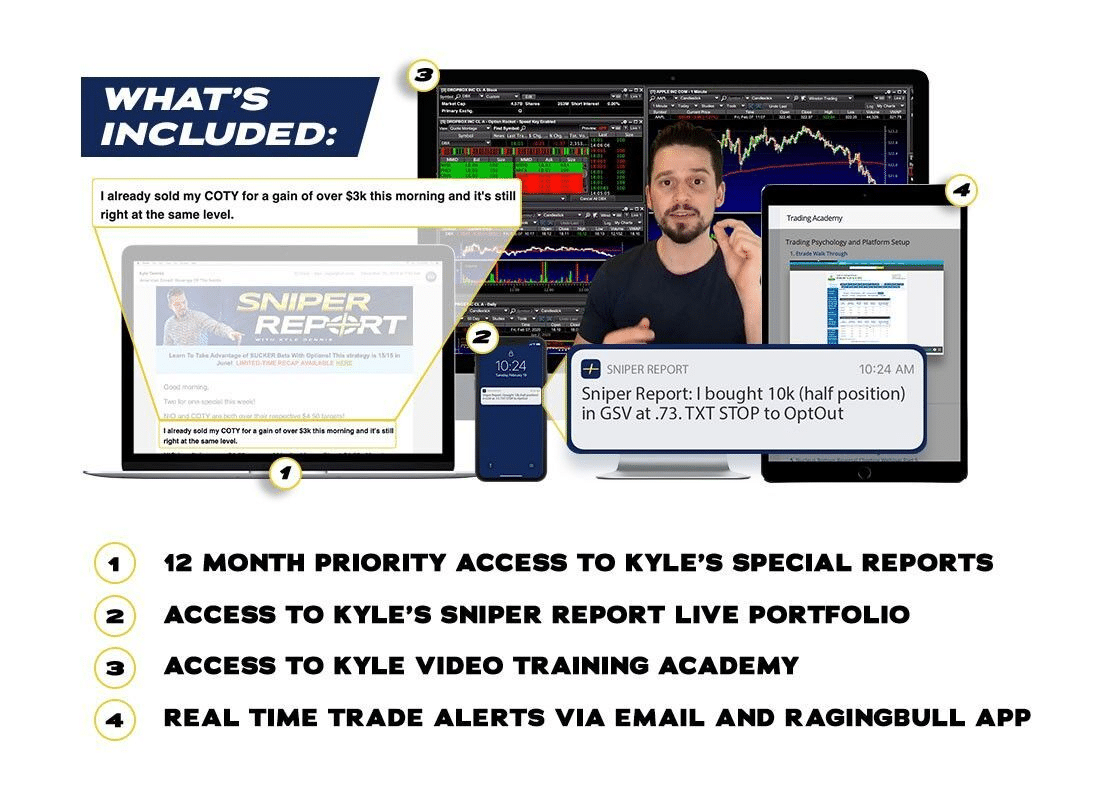 Don't miss out.