It's been a wild trading day so far. Sunday night, the Fed announced it would implement various programs to help support the markets, in order to combat the coronavirus crisis… and stocks pointed to a higher open.
However, we've seen a lot of back and forth action today…  and this choppy price action has many traders dazed and confused.
I received an overwhelming response from many of you over the weekend… and one commonly asked question was, how do I trade volatile markets?
In this market environment, I've found success by remaining nimble and focused on my profit buckets… and I want to show you one of the trading strategies I use to uncover opportunities at these levels.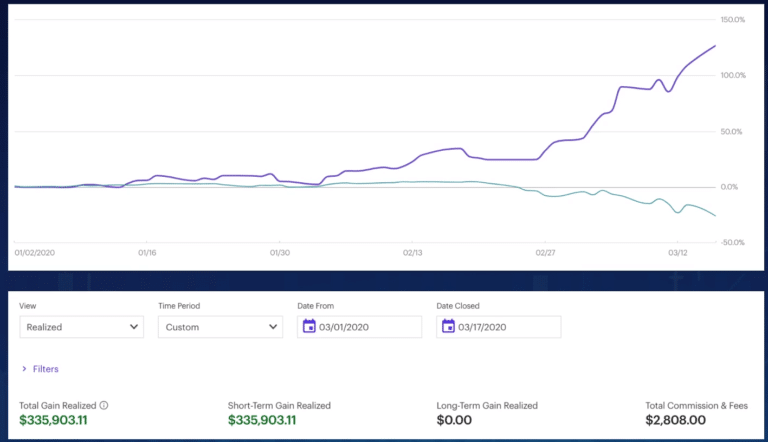 For me personally, I want to remain patient because you never know when a headline could hit the wires and cause stocks to reverse. That doesn't mean I'm on the sidelines… in fact, I remain in sniper mode and only look for quick and fast opportunities.
So how exactly do you navigate through this mess of a market?
When it comes to trading volatile markets, there's one thing I learned — not to overstay my welcome. That means whenever I put my money behind one of my profit buckets, I'm not looking to hold onto the trade for too long.
The problem I think many traders have right now is looking for trades. For the most part, I'm following the smart money and using the options market to my advantage.
You see, there are seemingly well-timed trades that I see in the options market… but I'm not naive because a lot of times, it's AHEAD of a catalyst. That's a signal that someone might know something.
Following the options market allows me to spot some fast-paced opportunities in this environment. Not only that, but it allows me to properly risk manage my positions while maximizing my potential profits.
Let me show you how this all works.
The 100% Winner In WORK
Slack Technologies (WORK) is one stock you've probably heard about before. With most states quarantined and many people working from home, I figured more business will start using Slack as their messaging platform.
If you think about it… what would that mean for the company?
Its revenues and earnings have a high probability of shooting up!
So I decided to keep an eye on Slack Technologies (WORK).
I looked at the daily chart, and finally saw the stock catching a bounce…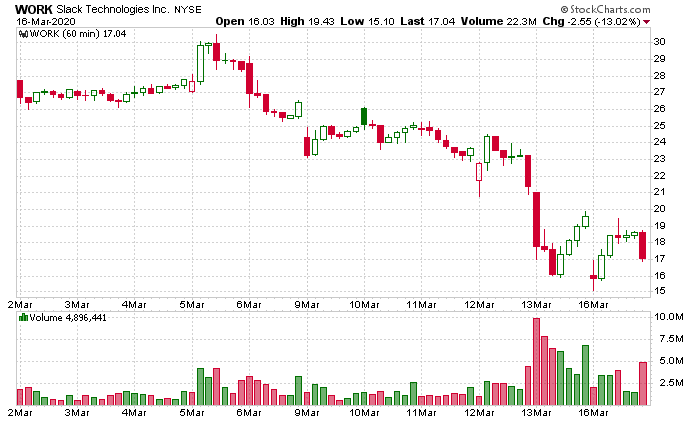 When the market opened last Tuesday, I saw WORK running higher. However, trading the stock outright could leave me in a world of pain.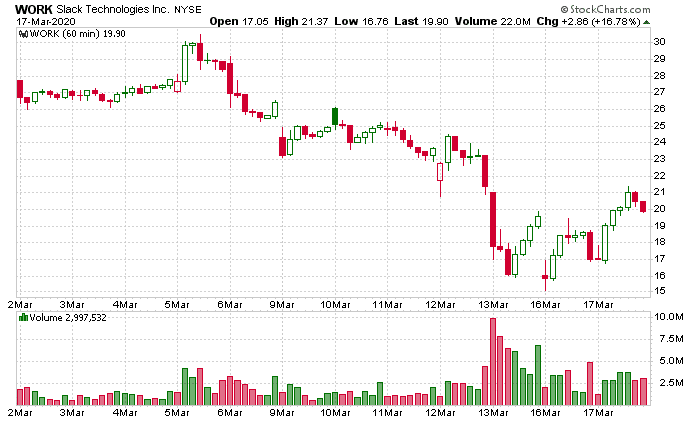 So what did I decide to do?
I turned to the options market. This would allow me to manage my risk properly and put myself in a position to make fast profits.
Here's what I sent out to Dollar Ace clients.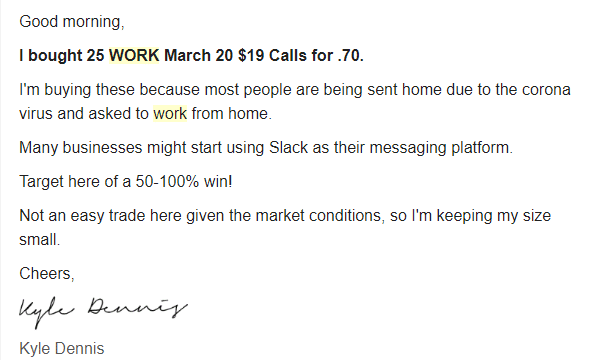 Pretty simple, right?
Here's what happened with WORK shortly after the market opened.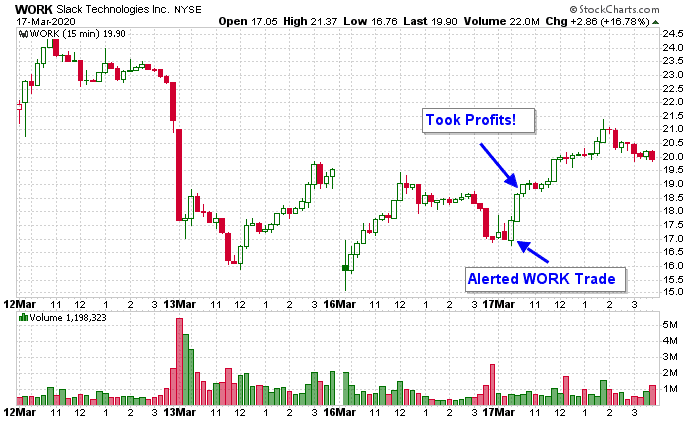 I alerted and bought the calls at 10:00 AM EST, and just 45 minutes later… WORK exploded, and those calls were at-the-money!
Of course, in this market environment, when I see profits… I'm taking them off the table.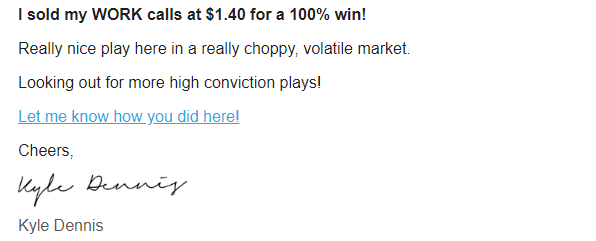 Quick, simple, and easy!
Let me show you another trade example…
Did Someone Know About NVTA?
A few weeks ago, I noticed 766 NVTA April 17th $15 Puts swept for $0.45 a piece — that was a $34,470 bet. They were purchased when NVTA was trading above $18 per share!
That meant this put buyer was expecting NVTA to drop below $15 on or before the expiration date. So I decided to place the stock on my watchlist.
In this market environment, I find it's extremely helpful to have a watchlist of just a handful of setups. That way, when it's time to pounce, I don't panic… I just remain calm, cool, and collected.
On March 10 at 10:34 AM, I actually pulled up NVTA, and noticed that the stock was relatively weak against the broader market.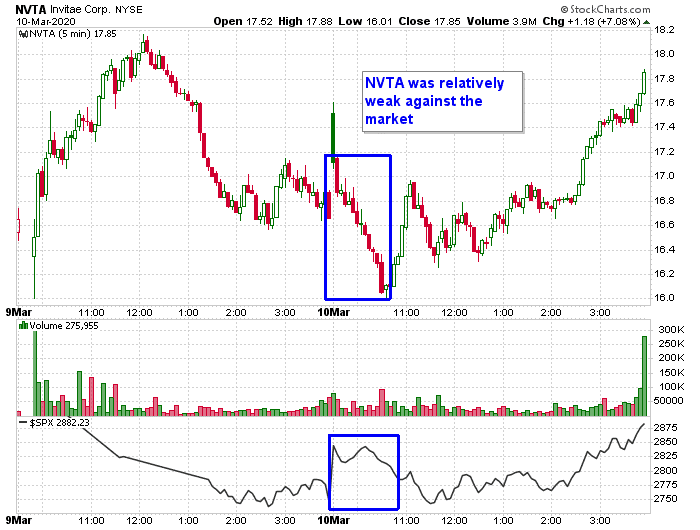 If you look at the chart, NVTA actually started to sell off at one point when the market was actually green. So I figured if NVTA broke the previous day's low and the market turns, the stock could plummet to $15 quickly.
So I bought 50 NVTA March 20 $15 Puts at an average price of $0.61. That trade cost me about $3,050 to put on.
Well, guess what happened just 2 days after I entered the trade?
The market was set to gap down significantly! This was great because the only thing that I held in my "portfolio" was one put and cash.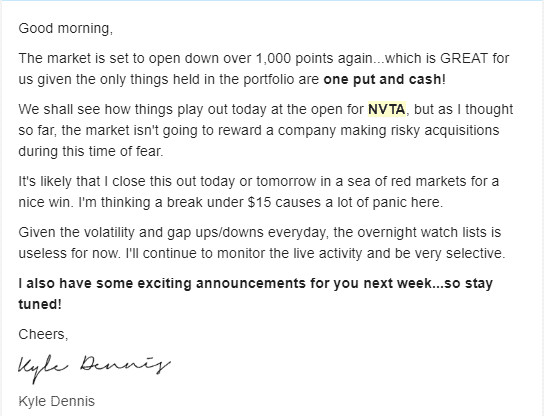 Here's what NVTA looked like that day…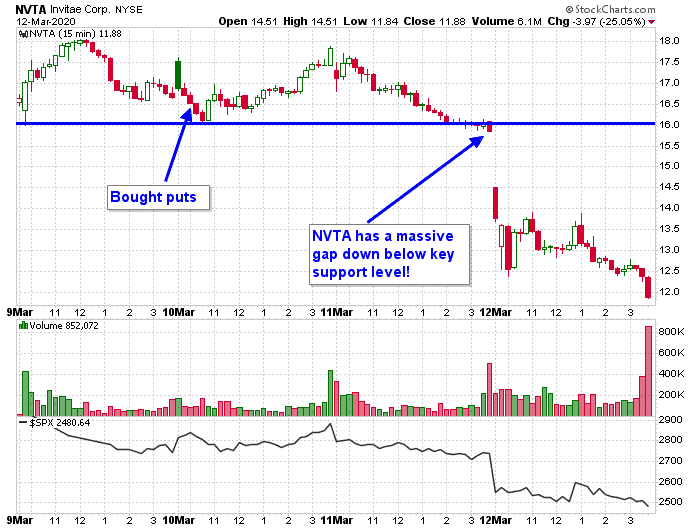 Of course, shortly after the market open, I decided to take my profits off the table, as those NVTA puts were going for $2.00! That $3,050 bet turned into $10,000, or approximately $6,950 in real-money profits! 
In just 2 days, I was able to lock down a 233% winner. 
In this market environment, I find following the smart money pays off. Not only that, but it helps to remain nimble and trade smaller… that way, it becomes a bit easier to get in and out of trades, as well as risk manage properly.