I received an overwhelming response after I opened up a discussion with my readers… and I saw the same question over and over: how do I trade in a bear market?
It makes sense that so many traders are gearing up for the worst… and wondering what state the market is in currently.
It's been a hellish week for stocks, as the S&P 500 entered bear market territory — the fastest drop from an all-time high… ever. All thanks to two "black swan" events — the crash in oil prices and the coronavirus pandemic. 
Of course, this time it's different. It took just 17 days for the S&P 500 to drop more than 20%… and we don't really know if the bottom is in just yet.
The only thing I do know is that it's been an exciting time to be a trader… and I believe there is one major opportunity on the table, as I will address in The State of the Market. Sure, we may be stuck with this volatility for months (or even longer). However, that doesn't mean I'm going to hide under a rock and wait until the dust settles.
In fact, I actually welcome the volatility, and there have been some useful tips I've picked up that could potentially benefit your trading… even if we're stuck in bear market territory for the entire year.
When there's so much volatility in the market, it's easy to get caught up and just buy dips… or sell rips. The thing is, I've found the patience to be key to navigating the whipsaws. It also helps to be nimble when it comes to taking profits and losses, as well as having a clear-cut plan. 
The best ways I've found to be useful amidst this bear market:
1) Have A Plan
For the most part, whatever I'm trading, I have an idea of how much I want to risk, the amount I want to make on a trade, and where I want to get in. Basically, I identify buy, stop-loss, and target zones when it comes to planning my trades.

When I have those written down, I have guidelines… and when I stick to those, it allows me to remove the emotions from trading, as well as navigate wacky markets easily.
2) Focusing On Short Term Trades
 When the market is experiencing whipsaws and massive moves in either direction… holding overnight positions could be difficult. That's why I've mainly been focused on short-term trades — day trades.

If I do spot an overnight hold, I just plan accordingly and risk the appropriate amount in relation to my account size.

3) Be Nimble
Ever heard of the term, "Don't overstay your welcome"? Well, when it comes to trading in bear markets… I think that is key to being successful. What I mean by that is when I'm sitting in profits, I'm going to take them off the table because who knows what could happen…

The same goes for losing trades. It's okay to take small losses here and there. What's not okay is continuing to pile into a losing trade until it destroys your trading account.
4) Have multiple profit buckets
For the most part, I have different strategies I could turn to when it comes to making money in the markets. For example, my smart money indicator has been working in bear markets. Basically, it allows me to be highly-selective with my trades… 
Let me show you how it works.
On March 10 at 10:34 AM, I actually pulled up NVTA, and noticed that the stock was relatively weak against the broader market.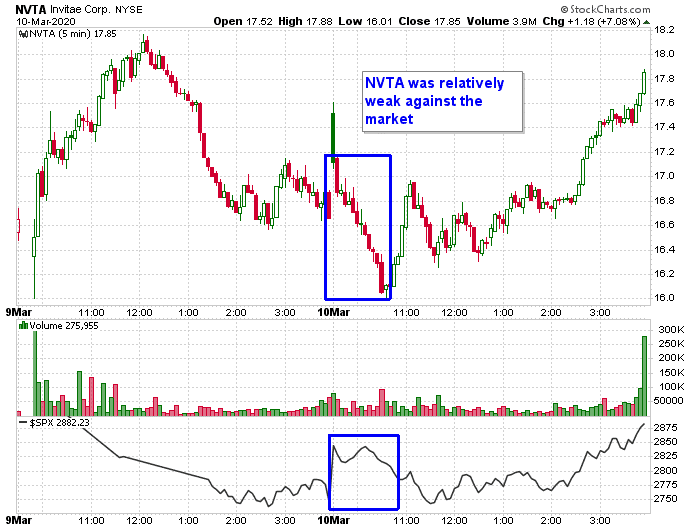 If you look at the chart, NVTA actually started to sell off at one point when the market was actually green. So I figured if NVTA broke the previous day's low and the market turns, the stock could plummet to $15 quickly.
So I bought 50 NVTA March 20 $15 Puts at an average price of $0.61. That trade cost me about $3,050 to put on.
Well, guess what happened just 2 days after I entered the trade?
The market was set to gap down significantly! This was great because the only thing that I held in my "portfolio" was one put and cash.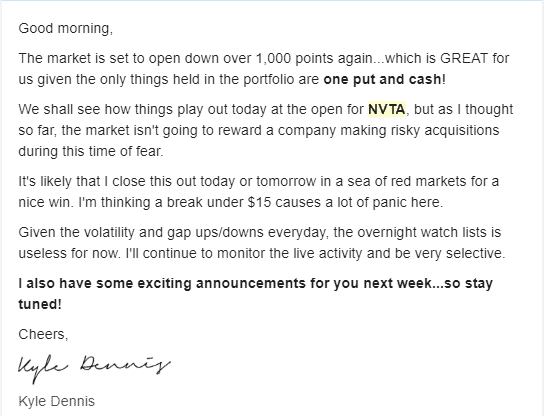 Here's what NVTA looked like that day…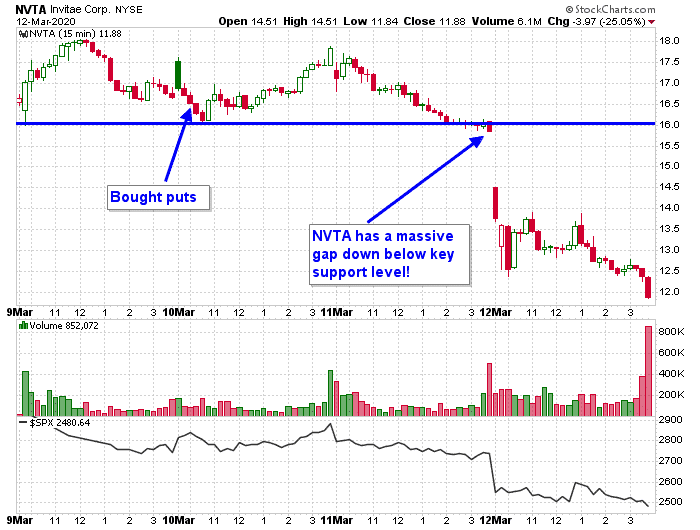 Of course, shortly after the market open, I decided to take my profits off the table, as those NVTA puts were going for $2.00! That $3,050 bet turned into $10,000, or approximately $6,950 in real-money profits! 
In just 2 days, I was able to lock down a 233% winner. If you want to hear more about this strategy, click here and check out my recent post: NVTA and LRN — Well-Timed Trades, Or Did Someone Know?
That's just one of the profit buckets I've used in this bear market… but on Tuesday, I am going to reveal my plans and how I'm going to exploit the most exciting opportunity in decades, in my State of the Market address.