Stocks have been getting smoked… and it seems as if every day the market rallies, the following day stocks crash. It's just down, down, up, down, up, down — just pure chaos at these levels.
I opened up a discussion with my readers, and since it's been a tough time for many of you out there… I want to try my best to help as many people out as possible.
As I looked through all the responses with my team, I found one common question: how do I time trades to near perfection?
In this market environment, it's so easy to get sliced up in these violent moves… but if you're able to time your entries, it could be very lucrative.
If you're a trader like myself, this is an exciting environment. The moves I'm witnessing are unprecedented, and there are plenty of opportunities to take advantage of.
The thing is, just because stocks are moving, it doesn't mean I'm randomly throwing down bets. In this environment, it's easy to get overwhelmed and trade without a plan. However, I believe that's one of the quickest ways to get taken out of the market.
I've actually discovered simple techniques that have allowed me to time my trades to near perfection and lock in $335K in March so far! If you've been having trouble in this environment, remember cash could be a position… and you don't have to always be trading stocks.
If you've been on the sidelines and want to test the waters — I want to show you how I've been able to find success in this market environment.
When it comes to fast-paced markets… timing is everything. It's so easy to get caught up in the noise and buy stocks randomly — and get whipped by the market. However, I've found success in remaining patient and stalking for the right opportunities.
For the most part, I haven't changed much with my trading style.
I've found that if you look for stocks with catalysts and develop a trading plan that includes simple buy, stop-loss, and target zones… it helps remove some of the emotions and time trades to near perfection.
That's exactly what I've been doing in this environment — leading me to more than $300K in profits in 12 trading days.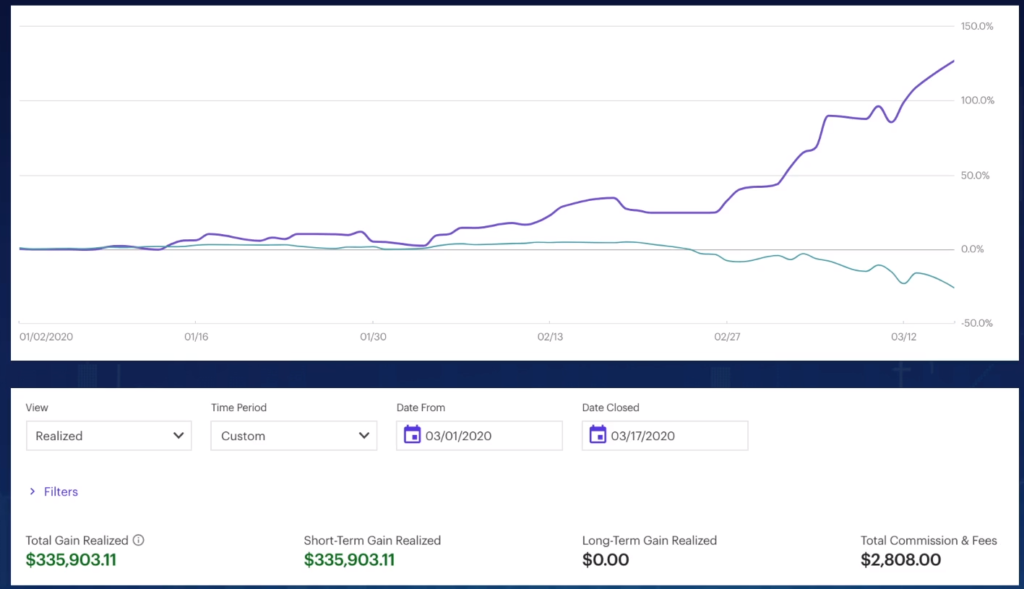 In order to prove to you that doing something as simple as looking for catalysts and writing down your buy, stop-loss, and target zones… I want to walk you through two real-money trades that I took this week.
[Exposed] How I Locked In $4K In INO And $8K In CHFS
With the whole coronavirus pandemic, there are plenty of names I keep on my watchlist. Why? Well, it doesn't seem like that catalyst is going away anytime soon.
Inovio Pharmaceuticals (INO) is one that remains on my list. On Monday, INO actually took a hit and I figured it could catch a bounce. Here's the chart I was watching in INO.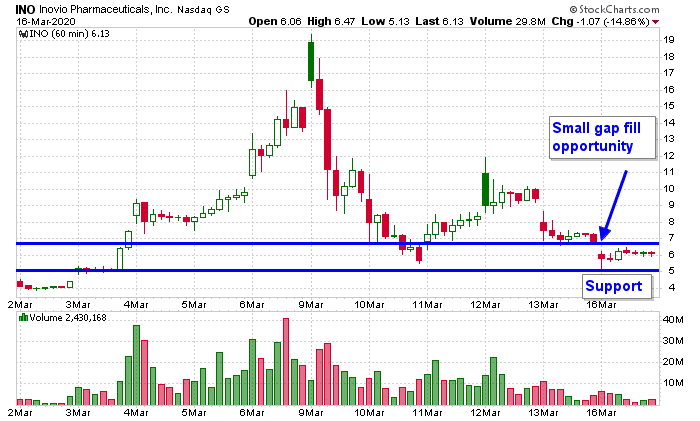 On the hourly chart, INO took a big drop… but it found support right around $5. With the massive gap down, INO had to potential to run up to $6.80. 
So what did I do? 
I planned accordingly. I waited for INO to start popping before I bought shares. My target zone was in the mid $6 area or higher… and I would stop out if the stock broke below the support level (the blue horizontal line).
So you could've had a plan like this:
Catalyst: Coronavirus stocks got hit today, but they could bounce since there is still news coming out… and I believe they could bounce.
Buy Zone: $5.50 – $5.95
Stop-Loss Zone: $5.00
Target Zone: $6.50 – $7.25
Pretty simple right?
I was able to pick up 12K shares of INO at $5.90 at 11:11 AM on Monday…
And guess what happened?
Just about an hour later, I was able to take my profits off the table!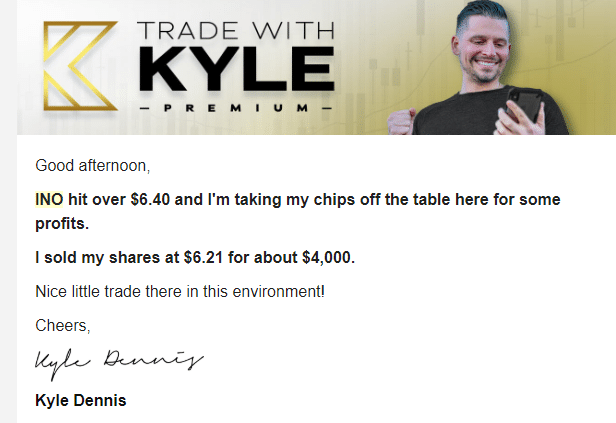 In this market environment, it's not only about getting into the trade… it's also about knowing when to get out. If you overstay your welcome, it's very easy to give back all your profits… and turn a winner into a loser.
$8K In Overnight Profits, In CHFS
For the most part, when it comes to my trading strategy, I like to keep it simple. Just take a look at the daily chart in CHF Solutions (CHFS).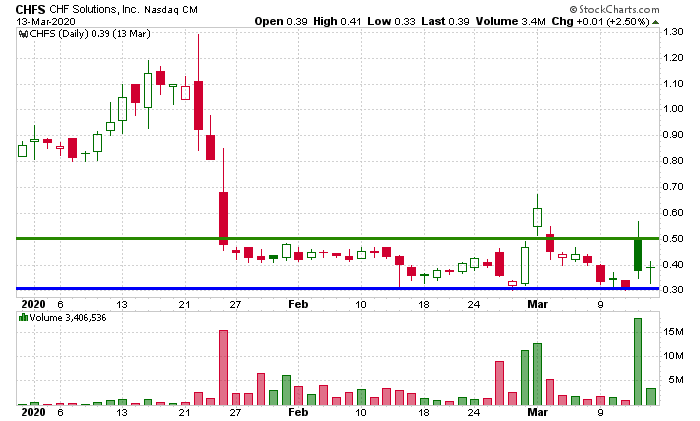 With this specific chart, CHFS had support at $0.30, and had the potential to break out above $0.50 (a key resistance level).
The thing is, the chart signaled the stock could bounce… but I needed to find a catalyst. Guess what? 
CHFS announced it was holding a conference call about its product and how it was being used in Italy to help with the coronavirus. This was just the following day after I spotted the potential trade. 
With this specific setup, all of the buy, stop-loss, and target zones were pretty clear. However, I knew I wanted to be out of the trade before March 17 at 11 AM EST.
Here's what I sent out to my clients…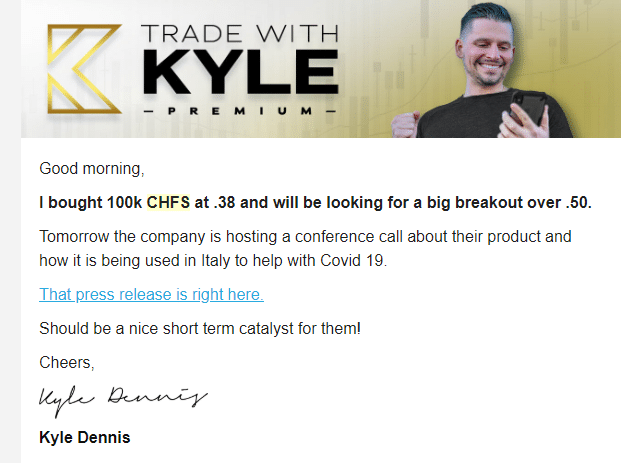 Shortly after I got into the trade, CHFS actually got to my target. However, I didn't take my profits off the table because I thought it could have gapped up the next day.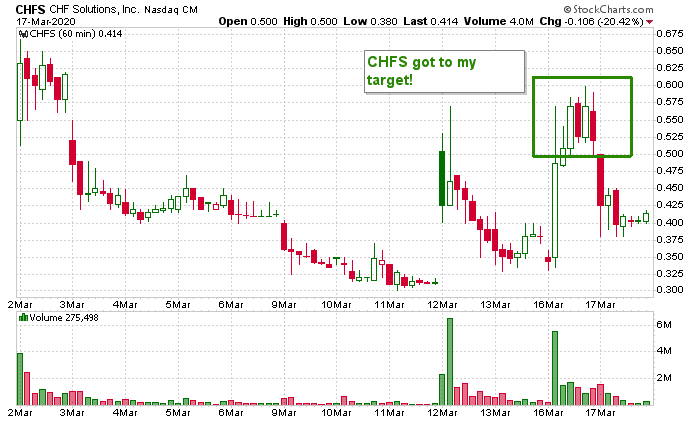 Of course, as you can see, I should've taken off when it was in my target zone. However, I'm not too mad because I was still able to lock in a profit.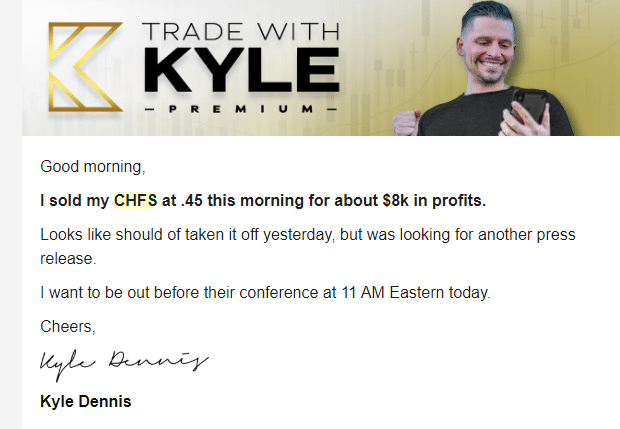 If you're struggling in this market environment, don't beat yourself up. There are ways to find opportunities and time your trades to near perfection. For a limited time only, you can watch the rebroadcast of my State of The Market and learn how you could find success in this wacky market.