Over the weekend, a plethora of headlines hit the wire… indicating more volatility could be in the cards for the week. Of course, it's hard out there for a lot of traders, so I decided to open up a discussion with my readers.
I received an overwhelming response from all of you, and one commonly asked question I saw was, How do I get prepared for the trading week?
I take pride in being labeled as The People's Trader. So, in order to help as many people out as possible, I want to show you how to develop a trading plan for yet another potential bloodbath.
For the most part, what I've found to be most helpful in this market environment is to be selective with my trades. That means I'm not randomly throwing down bets and hoping it will move in my favor — that would just be pure gambling.
Instead, I find my best trade idea of the week, so I can 
Pretty well, if you ask me. Just check out my latest Fast 5 Trades winner… remain laser focused and silence all the noise in the market.
How has that worked in this market environment?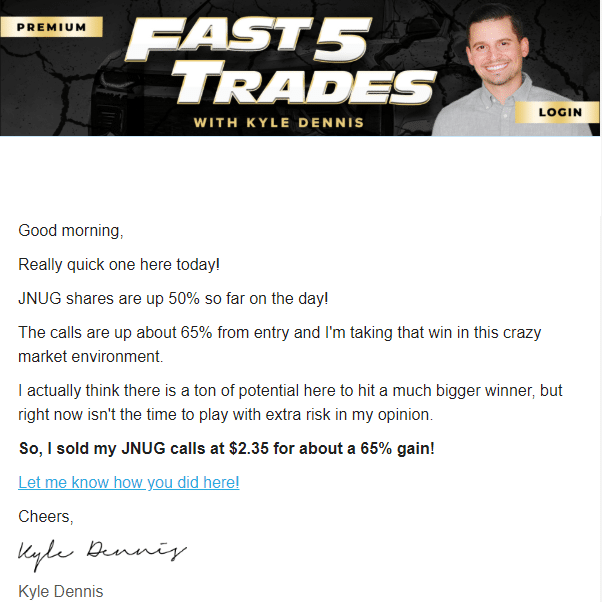 The thing is… I've made it so easy to follow for Fast 5 Trades clients, and some have found success. It's just one trade per week — my best trade idea — that gets sent out on Mondays. Included is my thesis, the buy, target, and stop-loss zone.
That's about as straightforward as I could make it… 
So how does it all work?
Let me show you with my 65% winner in JNUG…
My Fast 5 Trades are all about making as much money as possible in the shortest time possible. The goal is to be in on Monday and be out by Friday.
Although I plan to hold for a maximum of 5 days, sometimes, I'm able to spot massive winners in less than a day… like my trade in the Direxion Daily Junior Gold Miners Bull 3X Shares (JNUG). 
For you to fully understand the trade, I have to provide some background information. 
Why I Picked JNUG As My Best Trade Idea
As I scoured through hundreds of stocks, exchange-traded funds (ETFs), and exchange-traded notes (ETNs), I found one trade idea that made the most sense: Direxion Daily Junior Gold Mine (JNUG). Why? 
Well, the Fed cut its benchmark interest rate to a range between 0% to 0.25%. In a low interest-rate environment, gold-related plays have a high-probability of going up. You see, this makes gold stocks more attractive because other safe havens (bonds) won't yield as much. 
In turn, one would expect the demand to pour into gold stocks.
The thing is… no stocks were safe amidst the bloodbath. JNUG got destroyed and lost more than 90% of its value in just a few weeks. Now, the one thing to note about JNUG is the fact its a 3X leveraged ETN. In other words, it's a risky play.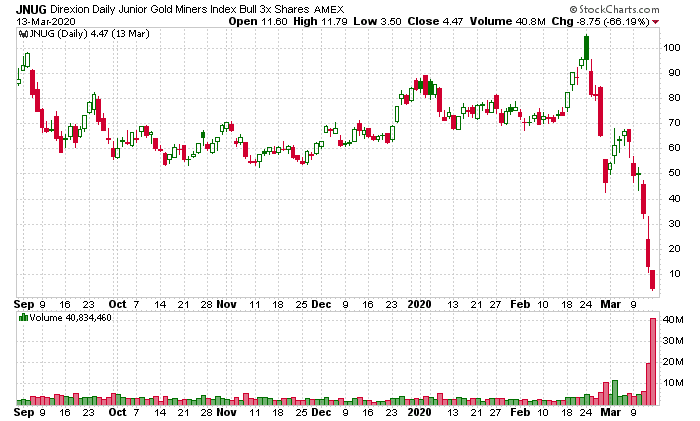 Now, with leveraged products, it's a little different… and if you don't understand them, it doesn't make sense to trade them. So here are a few notes about them, so you could potentially expand your trading universe.
Trading Leveraged Products With Defined Risk
One thing to note about leveraged products is they're built for Speed and power.
Double- or triple-leveraged exchange-trade products (ETPs) are designed to offer returns that are multiples of the daily performance of an underlying index, typically.
In the case of JNUG, the exchange-traded fund (ETF) aims to track 300% of the performance of the MVIS Global Junior Gold Miners Index, which provides exposure to micro- and small-cap gold and silver mining companies. 
What does "300% of the performance" really mean when it comes to leveraged ETPs?
Well, it means if the underlying index goes up by 10%, in theory, the leverage ETF would be up 30% on the day. The opposite is true if the underlying index drops by 10%. However, when the markets are volatile, the tracking could be a little off.
If the underlying index shoots up by 30%, the 3X leveraged ETF could move much more… that's what happened with JNUG last Monday.
So if you were looking to profit quickly from a surge in safe-haven gold buying on Monday, the 3X fund was a super-charged way to get that done.
Just take a look at GDXJ (which aims to track the daily performance of the MVIS Global Junior Gold Miners Index) and JNUG (the 3X leveraged ETF that tracks the same index).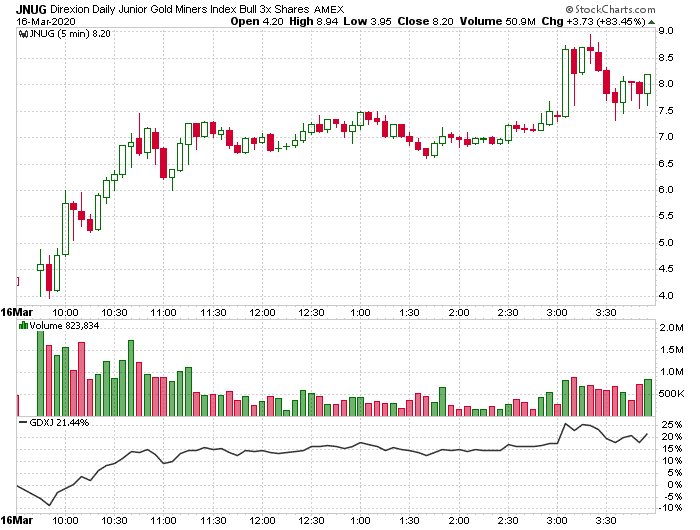 While GDXJ was finished up about 20% on the day… JNUG more than doubled at one point! That shows you the power of leveraged ETPs. However, with great reward comes great risk. 
Buying shares outright could really hurt you because you simply don't know how much it could move in a given week. Not only that, these products aren't meant to be held for extended periods of time.
How I Executed The Trade In JNUG
I purchased the calls. That way, I maximize my upside potential, while reducing my downside risk. You see, with options, the most I could lose is the premium paid… but the upside potential is massive.
Once I had an air-tight thesis and trading plan… I let Fast 5 clients know about my moves.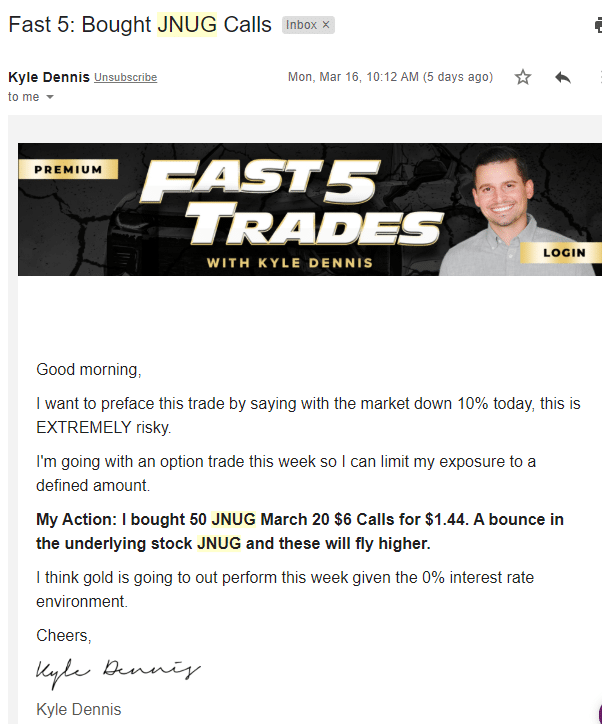 I purchased 50 JNUG March 20 $6 calls for $1.44. There were just 4 days left until the expiration date, and that means the trade was in line with the goal of Fast 5 Trades.
Here's what happened with the trade…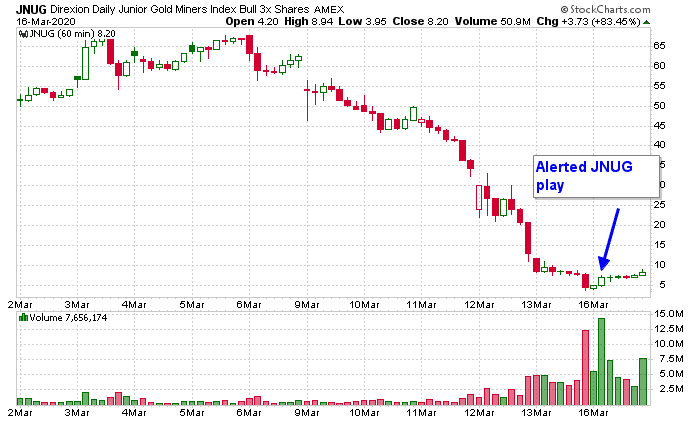 JNUG got a nice pop… and in under an hour, those calls EXPLODED!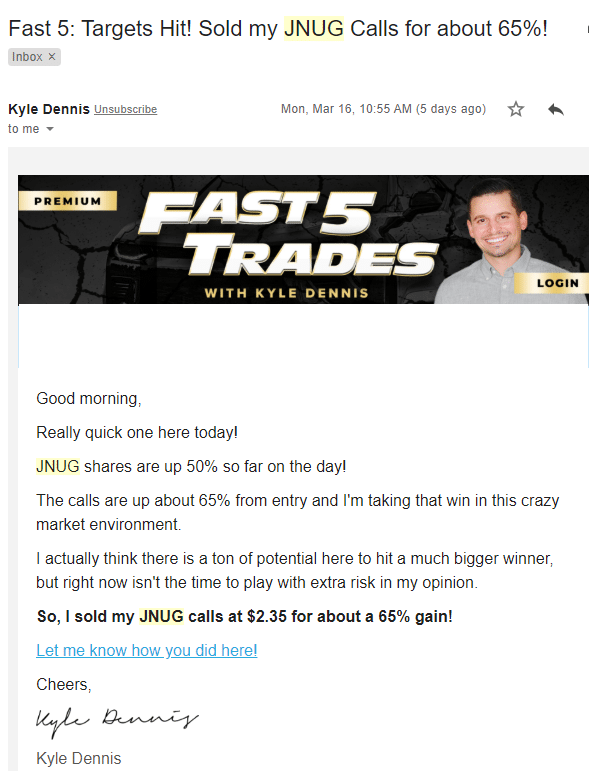 I was able to lock in a 65% return on those calls, and my target was hit!
However, I wasn't the only one who banked on this setup…





With Fast 5 Trades, you don't necessarily have to worry about what the overall market is doing. All you have to do is focus on the one trade you're in. Win, lose, or draw… you can just go about your week.
Let Fast 5 Trades be your edge in the market, and sign up here. Hurry, my next best trade idea drops soon.